If you are a parent then you must know what the favorite hobby of children is. They love to spill things out, whether its food or milk, they just spill it out, irrespective of the place and time. But can you do anything? No, you can even get angry with them, they are kids, right? It's their birthright to create a mess. Well if the milk has ruined your carpet this time? Keep calm because you can easily remove this stain. You can do it at home and the ingredients required are already available at your home. There is no need to make any extra effort. Carpet cleaning at home is always an advantage. It has several benefits, so there is no need to go for a commercial wash, just to clean the milk from the carpet. Home cleaning will save your carpet from unnatural ingredients.
First of all, act quickly, don't wait for a longer time to wash it otherwise it can make trouble for you.
Some Tips That will Not Only Remove The Stains Made by The Milk Only But Also Remove The Odor of Dried Milk Very Easily:
Take some water and wet the dried milk. In this way, it will lift above the fiber of the carpet.
Now take some amount of the detergent and add it into the hot water. (Take the quantity according to the size of the stain)
Now rinse the affected part of the carpet in this solution.
If you want to make the cleaning more effective, add some amount of vinegar into the solution.
Now put this solution on the area where the milk has been spread.
The next step is to blot the area gently.
Keep rubbing this area till you see the spot vanished.
Now your carpet is clean and free from the milk spot.
You need to clean it with the clean water now.
Now if the milk odor is still there, sprinkle a required amount of baking soda on it.
Leave it on the stain for some time. (Let it be there for 15-20 hours).
Baking soda is considered as the best odor eater.
In this way, you will get rid of the smell of the dried milk as well.
Finally, all the bad smells and stains are gone. You can give it a final wash with clean water.
Dry the carpet after this all process.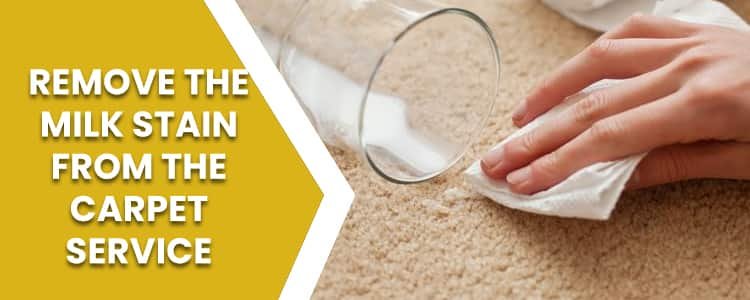 After drying, you are free to use it. Put your favorite carpet on the floor and decorate the home floor again. Let your kids play wherever they want. After all, you have the best tips for carpet cleaning in Buderim. You can freely and easily use them at home. The best thing is that this wash will be chemical-free and there is no risk of any allergy to your kids. The chemicals are usually harmful to the kids and it can impact them harmfully. So home cleaning is the best.